By Barry MacQuarrie, CPA, Director, Business Automation Solutions, Kevin P. Martin & Associates, P.C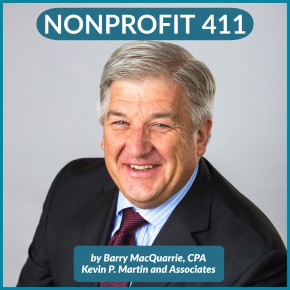 Ever feel like your nonprofit organization is operating the same way it did in the 1980s? Yes, the 1980s, a decade that brought us the 'Miracle on Ice,' the Celtics dynasty and, of course, the first laptop. Who can forget the laptops from such memorable companies as Osborne, Compaq and Kaypro? Although the 80s was a great decade, it's also when we started to spend time keying and rekeying data into our new desktop accounting applications.
Sadly, many of these time intensive activities continue today. Let's look a simple sale transaction. You place your order, the vendor enters the information and mails a paper copy of their bill. You rekey the data into accounts payable and process your payment. They receive your check and rekey the same data into their billing app. There must be a better way!
The impact of new technologies during the past decade has been nothing short of amazing. We share our lives on social media, depend on our mobile devices for everything and have moved to the cloud. Developers are constantly building new apps that can radically change the world of business.
By embracing these radical new technologies, we can break old habits and build organizations that are more efficient and reliable. Image a day when your order from that vendor sets off a series of financial transactions that don't require a single person to manually rekey data. Here a few areas that you can explore to make your organization more efficient:
Processing Vendor Bills – There are new apps that can fetch your vendor bills, analyze the bills using OCR and create usable data that can be automatically posted to your accounts payable app. No more rekeying data!
Expense Reporting – In a similar fashion, these apps digitally capture receipts, create expense reports, automate the approval process, provide reimbursement and automatically sync the data to your accounting app. Rekeying data is one again eliminated!
Time Tracking – Anyone using manual time cards or spreadsheets to track time? Today's time tracking apps allow employees to clock in and track their time on a mobile device, change job codes with a simple click and electronically submit their time for approval. These apps will push the approved data to your payroll and accounting apps. Bye, bye rekeying of data!
Integration and Automation Apps – Imagine if an action in one app could automatically cause action in other apps and integrate data. For example, someone donates via your website and an app automatically adds them to your mailing list, sends an email alert to the management team, builds a thank you email and tweets about their donation. Just one more way to eliminate keypunch!
For any of us old enough to remember the DOS version of QuickBooks, some of these apps seem too good to be true! However, they really do exist and can be used to dramatically change your organization. They can help you move your operations out of the 1980s and create a more efficient and fun place to work.