Expanding Benefits as an Employee Retention Tool Just Got Easier
by State Treasurer Deborah B. Goldberg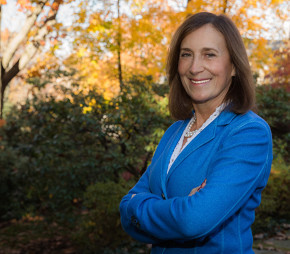 One of every organization's most valuable assets are the people who work there.  With more rapid changes brought about by the increased use of technology, and improvements in the national and local economies that translate into more competitive job markets, keeping your most talented employees has never been more challenging. Even within the nonprofit sector, it is critical to offer employees compelling benefits to remain and work for the causes they care about. This environment means your organization should do more, and we have a tool that can help.
The Massachusetts CORE Plan (CORE Plan) is a state-sponsored 401(k) retirement plan designed especially for small Massachusetts nonprofit organizations.  As CORE Plan Sponsor, the Office of The State Treasurer assumes a number of administrative and investment responsibilities on behalf of participating employers and their participating employees.  The CORE Plan is a Multiple Employer Plan, which allows us to combine Plan assets between your organization and other organizations across the state, bringing down the costs of offering a full-featured 401(k). The CORE Plan leverages the expertise and best practices used today in many large retirement plans while striving to keep costs low for employers and employees. Nonprofit organizations based and chartered in Massachusetts and employing 20 or fewer staff may adopt the CORE Plan.
Your employees likely know how important it is to save for retirement, but opening an IRA and remembering to contribute, or making sure enough is being contributed, is not always as easy as it should be. The CORE Plan is designed to make it simple and straightforward to participate and see real savings add up.
Some of the key features of the CORE Plan include:
All of the employee benefit protections under ERISA.
Automatic enrollment, combined with auto-escalation of employee contributions, makes it easy for CORE Plan participants to start saving early and grow savings rates quickly.
Higher contribution limits versus an IRA and the potential for employer-matching contributions.
The investment structure of the CORE Plan is developed and monitored by an independent investment consultant acting as a fiduciary under ERISA.
Knowledgeable CORE Plan representatives available to explain Plan benefits to your employees.
Easy-to-read fee disclosures ensure that participants are aware of fees. There are no deferred sales charges or contractual obligations for CORE Plan participants.
A robust participant website experience includes individual retirement income projections based on each participant's age, contribution rate, account balance, and investment allocation: www.ma-core.com.
For additional information regarding the CORE Plan employers may visit us at www.ma-core.com or contact us at 877-630-4015. Find out how you can join us in adding value to your employee benefits.
PS: If you are an employee at a small Massachusetts nonprofit and think your organization could benefit from adding the CORE Plan, please share this information with your executive staff or human resources department.