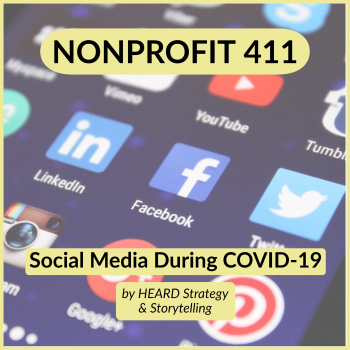 By HEARD Strategy and Storytelling
For many nonprofit organizations, sustainability is always a top priority. An organization's goal of delivering on its mission during the Covid-19 pandemic has likely brought many challenges. Social media has grown to be an essential part of maintaining relationships and fundraising for nonprofits across the globe.
Social media, since the medium's inception, has been a tool to help people connect. This is no different for nonprofits and their supporters. Because of the pandemic, organizations have had to heavily rely on social media to highlight the work they've been doing, as well as create and cultivate virtual connections. Each platform is a tool that can be used to introduce new people to your organization in various ways, as well as highlight key happenings with those who are already familiar with your work. Social media has given the opportunity to quickly share information and engage with those you share it with. People can have conversations, not only about you and your work, but also with you. Covid-19 has forced many conversations to be held, in some capacity, online and social media has been the perfect platform for that to happen.
Fundraising plays a vital role in the survival of nonprofits. Organizations have been pushed to create new, innovative ways to raise money since early 2020. Social media has presented new opportunities to bring in that funding in ways that might not have been thought about before being forced into this new reality. By using platforms like Facebook and Instagram, events can be streamed to give supporters the feel of being there, while remaining in the safety of their own home.
One considerable benefit of social media is the cost. There is little to no cost to reach people through social media. Organic posts will reach those in your network, while creating relatively inexpensive sponsored posts can reach a larger target market. The potential reach is ultimately determined by the cost and demographics of your selected audience. It would be likely that your return on investment would be greater during the pandemic because of an increased amount of screen time for many people. Because of this, it might seem like you're more susceptible to competing to be on your audience's radar. That's why, now more than ever, it's important for nonprofits to capitalize on this opportunity to provide valuable content to really keep their audience engaged during this exceptional time.
A few tips:
Be consistent – you will not be able to build an engaged audience with sporadic posts.
Use hashtags – this will drive people with shared interests to your posts.
Provide a call to action – tell your supporters what you want them to do.
Engage – the point of social media is to BE SOCIAL!
The Covid-19 pandemic has forced people and organizations to discover new ways to create meaningful connections online. Various in-person restrictions have presented an array of challenges when it comes to connecting nonprofits with their audiences and supporters since March of 2020. During a time when physical connections have been so difficult to maintain, social media platforms have become essential in forging a virtual path to continue missions, as well as drive in new patrons and stay connected with current audiences.