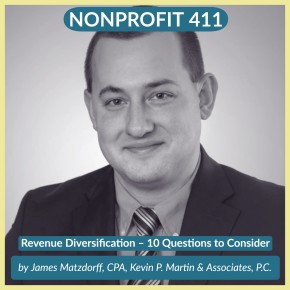 by James Matzdorff, CPA, Kevin P. Martin and Associates, P.C.
With increasing competition and shrinking budgets, it is important for nonprofits to broaden their horizons to alternative sources of revenue in order to better protect against economic decline and uneven political environments. While diversification of revenue may allow nonprofit organizations to have a more stable financial position, implementing these streams brings different levels of reliability, limitations, costs and concerns with each possibility. Therefore, it is important that nonprofits consider their options and find those that best fit their specific organization and risk management needs.
As you consider revenue diversification efforts, here are 10 questions to consider:
Why do you want to diversify? Knowing your goals and the reasons you are working to diversify are integral to keeping your efforts focused. Make sure your goals are measurable.
Is now the right time to diversify? While diversification efforts should consistently be discussed, your organization may find itself in a position where diversification would be counterproductive to your goals (i.e. think short-term, extreme growth initiatives).
Are your Board and Senior Management on the same page? Buy-in from all stakeholders is extremely important to the success of any diversification initiative. Make sure everyone is on the same page before you begin.
How entrepreneurial is your organization? Entrepreneurs are not just for for-profit companies. Having the right people on hand who can identify and take advantage of opportunities is key.
What niche markets do you (or do you want to) operate in and what funders support those markets? Be wary of casting too wide of a net too quickly. Identify where it is you want to grow and then identify and specifically target those funders who will support your new initiative.
Who are the local players in your community for your niche service offerings? Coffee. Coffee. Coffee. Have lots of it, with lots of different people that are connected to your new idea; whether a municipality, for-profit or nonprofit organization.
Is it time to consider a joint venture? Joint ventures are on the rise and now is the right time to think outside the box about who may be a great partner for your organization. When looking for joint venture opportunities think about organizations who are doing similar, but perhaps complimentary services, or organizations who provide the same service but are in another geographic area.
Are there any sister product/service offerings to what you are currently doing that you could provide? Think side-step opportunities – the art museum who starts a painting class or the childcare organization who starts offering summer camps.
Where's the low-hanging fruit? This could be a side-step or something as simple as reassessing your physical assets for external opportunities (think solar panels, antennas, even birthday parties). And do not forget about third party and private fees. These can be both lucrative, and just as important, unrestricted.
Last one (and my personal favorite): What services do you find yourself constantly referring out? Hint: ask your staff. Opportunity may be closer than you think.
A solid revenue diversification strategy is an important part of a nonprofit organization's overall risk management plan. So do not wait until your next strategic plan to start the conversation, engage with your Board and management on potential ideas today.