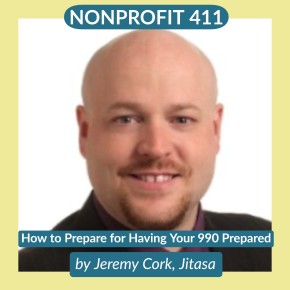 By Jeremy Cork, Jitasa
Whether you prepare your own Form 990 or outsource it, you can make the process less painful by following some simple steps and gathering certain information well-before prep begins. There are (2) variations of Form 990: Form 990 (12 pages) long form or Form 990-EZ (4 pages) short-form.  The gross receipts of your organization are usually what determines which Form 990 you are required to file.
If your fiscal year ends on December 31, your Form 990 is due by May 15.  You do have the option to file a 6-month extension giving you a new/final due date of November 15.  The month following your fiscal year end is usually very busy; preparing and filing employee W2s and contractor 1099's, preparing various reports, etc. By the time you are finished with those tasks, you're now a month closer (or more) to your Form 990 due date.  The Form 990 has as nearly as many additional schedules as there are letters in the alphabet.  Knowing ahead of time which schedules may be required can save time, effort and reduce stress.  To see a list of additional schedules and instructions, visit the IRS link here: https://www.irs.gov/forms-pubs/about-form-990-schedules.
Some of these steps can only be done after your fiscal year ends, however, by understanding each step and being proactive, your 990-filing experience can come and go with ease. This list is not all-inclusive as each organization is different, however, many steps are common for all organizations. So here they are!
Steps for making 990 Prep less complicated and less stressful:
BE PROACTIVE: discuss with your team ahead of time rather than just before the due date.
Financial Review or Audit: Review the audit requirements for your state.
IRS Extension: Consider ahead of time if you think you'll need to file an extension.
Review Prior-year Form 990: This will provide insight into what will be required for the current year.
Close Books for Year-End:

Reconcile ALL bank/checking/savings/investment accounts, etc…
Record any journal entries necessary; accruals, AR, AP, prepaids, depreciation, etc…
Perform year-end Book Review: Review all activity for all accounts.

Gather Financial Information:

Financial Reports.
Copies of W2's and 1099's.
Review list of Form 990 Schedules – compare to prior-year Form 990.

Non-financial Information:

Organization details; Name, Address, Phone #, Board of Directors.
Review Parts IV – VII on the 990 to determine which other information may be required.
Who will review and sign your 990 internally before the deadline?
May need to consider additional as well.
Timing: Provide ample time for Board Review and any comments or changes before the filing deadline. A board review is not required but is strongly encouraged.
It may seem like it takes more time to gather information than to prepare the 990, but the extra time spent before prep will pay-off in the end.  Whether your file a Form 990 long form or Form 990-EZ short-form, prep time can be drastically reduced by following the steps outlined above.  Understanding that preparing and filing Form 990 is extremely important to your organization and should not be an after-thought. Your mission, and the cause it supports, is much too important not to consider the importance of your Form 990.