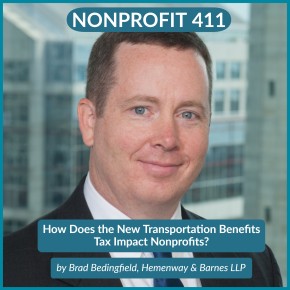 By Brad Bedingfield, Hemenway & Barnes LLP
To the dismay of charities across the country, costs incurred in providing certain commuting and parking benefits to employees now result in a tax payable by the charity (or other tax-exempt organization).  This odd tax (for expenses incurred after December 31, 2017) can be found in section 512(a)(7) of the Internal Revenue Code.  The tax is framed as a deemed "unrelated business income tax" (or "UBIT"), and the costs that trigger this tax are treated as deemed "unrelated business taxable income" (or "UBTI").  Treatment of these costs as deemed UBTI affects how the taxes are calculated, and what options an organization may have for avoiding or minimizing the tax.
What costs are taxable? 
For purposes of determining the amount subject to tax, we must focus on costs to the employer, not benefits to the employee.  Costs to provide commuter rail or subway passes, and for certain kinds of bus or van transportation, generally count as deemed UBTI only up to $265 per month (in 2019), whether those costs are incurred directly or by way of pre-compensation reduction arrangements.  Commuter parking benefits provided by way of payments to third-party parking vendors generally work the same way, with a similar effective $265 per employee per month cap in many cases.
However, things get much more complicated when a tax-exempt employer owns and operates its own parking lot or garage.  Countable costs may include a range of things, including employee costs, maintenance, snow and leaf removal, cleanup, insurance, real estate taxes, and so forth (although depreciation on the parking facility does not count as a cost for this purpose).  Once the aggregate costs for parking are tallied, the employer has to find a reasonable way to allocate those costs to employee use.  IRS Notice 2018-99 provides one method of doing that, but each organization should consult with its tax advisors to determine a reasonable method for that organization.
Does Massachusetts impose UBIT?
Massachusetts imposes its own UBIT as well.  Because of the way the Massachusetts tax code references the federal UBIT provisions, it appears that this deemed UBTI for the cost of commuting and parking benefits will be subject to Massachusetts tax for employers in corporate form, but not for employers in trust form.  Like the federal government, Massachusetts requires quarterly estimated payments in advance, although the schedules for payment are not identical.  Other states may have a separate UBIT as well, which may or may not incorporate this new 512(a)(7) tax.
Can the tax be avoided or minimized?
One way to avoid or minimize the tax would be to stop providing commuting or parking benefits (perhaps instead increasing compensation), but that may not be practical.  An organization that has certain kinds of losses attributable to unrelated businesses may be able to use those losses to offset this deemed UBTI, although other changes in the rules have made that more difficult, especially with regard to new (post 2017) losses.  Charitable contributions may be an elegant way to avoid or limit this tax.  Charities in corporate form can generally deduct up to 10 percent of their UBTI for charitable contributions, and those in trust form can generally deduct up to 50 percent.  However, for certain very limited kinds of disaster relief, Congress (by special legislation) allows deductions of up to 100 percent of UBTI.  The organization will still have to file the federal Form 990-T to report the deemed UBTI and claim any deduction, but this can be a handy way to turn a tax into a mission-furthering grant.
Possible repeal of the tax?
Given its bipartisan unpopularity, this tax may be repealed at some point.  For now, however, nonprofits need to be tracking and paying taxes on costs to provide their employees with commuting and parking benefits.
For an in-depth review of the new transportation benefits tax on nonprofits, MNN members can watch my April 19th webinar, "New Transportation Benefits Tax on Nonprofits," in MNN's Webinar Archives.
Brad Bedingfield is Co-Chair of the Nonprofit Group at Hemenway & Barnes LLP. Brad assists private foundations and public charities with navigating complex tax regulations and procedures, including receipt and disposition of complex charitable gifts and participation in innovative forms of impactful philanthropy.