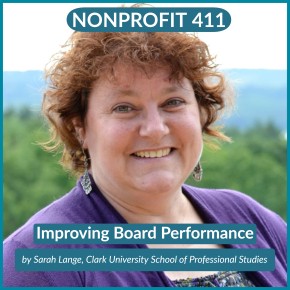 by Sarah Lange, Clark University School of Professional Studies
Executive directors and directors of development often cite under-performing boards as one of the top challenges they face. In addition, board members cite meetings, paperwork and minutia as the things they enjoy least. But change is possible. An engaged board of directors can help nonprofits fulfill their mission in new and surprising ways. Good boards don't materialize out of thin air: they are the result of strategic, thoughtful work, and a year-round investment in recruitment and education.
However, most of the methods, processes, and structures that some nonprofits use are outdated. Given this, it's no wonder that boards sometimes fail to fulfill their duties and not realize their potential.
Recruitment/Nomination
An active, engaged board results from proper recruitment. Create a Board Development Committee (BDC) comprised of 3-4 people willing to take charge of the development of your board. Next, collect a list of 25-100 names of potential board members: be sure to consider diversity in all its forms. A diverse board provides you with access to multiple perspectives, skills, attitudes, and cultures. Channeled properly, this will lead to more creativity and innovation.
Be strategic when selecting board members. The #1 selection criteria for any new board member should be a passion for your organization's mission, because they'll go the extra mile. Look at where the organization is in terms of its stage of development. You'll need a different type of board for each stage: Start-up, Stabilization, and Continued Growth. Regardless of the stage, it's important to have board members and/or staff with the opposite personality type that stage requires, as these people will help nudge you to the next stage of development.
Orientation/Activation/Engagement
Orientation and activation are the job of the Board Development Committee. At the very least, orientation should consist of a tour of the organization and a review of the board manual. Ensure that the expectations, duties and responsibilities are clear to everyone involved. People perform better when they have a clear understanding of what it is they're supposed to do. Engage new members immediately by assigning them to a committee. The BDC should check in with new members before and after each meeting to get their feedback about their experience and offer guidance or support as needed.
Evaluation/Renewal
Investing in the growth and development of board members is essential to improving board performance. The best way to identify the strengths and growing edges of a board is to conduct an assessment, and then develop a plan for addressing identified needs. It's also a good idea to conduct a skills and interest inventory so you know which gifts board members are bringing to the party. Ongoing education should be a regular part of board meetings.
And don't forget to celebrate. Be sure to integrate fun and celebration into the life of the board. Sharing updates and accomplishments at the beginning of each meeting can set the tone and be uplifting to the overall attitude and moral of the members.
These are just a few tips to help you improve board performance. Remember: board members want to help, but it's our job to show them how to support the work of the organization.