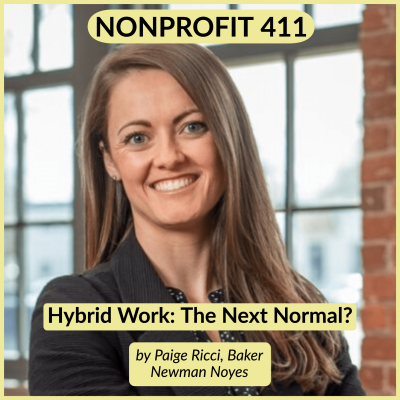 By Paige Ricci, Senior Advisory, Business & Technology Advisory Practice, Baker Newman Noyes
As we begin to see the light at the end of the tunnel of the COVID-19 pandemic, there are many questions about what this means for returning to an in person work environment. We settled into a "new normal" for the past 17 months as we all transitioned to remote work and we did so in such a prompt and critical manner.
So, what is the "next normal"? It's where we are headed as our communities begin to relax restrictions. As a result of this, employers are both feeling safe and supported to do the same. For many of us this means a transition from a fully remote to a hybrid work model that provides desired flexibility to all employees.
Why Hybrid?
It provides the desired flexibility for employees. The impact of returning to an office on a full time basis can be great for all employees. . A hybrid model gives employees the freedom to work when and where they are most likely to thrive. On some days this may be in the office collaborating with peers, while on other days it may be at home focusing on a project or deliverable.
How to Make a Hybrid Model Successful
Governance model – Ensure you have the right people in the right seats setting the direction and making decisions. All meetings should be facilitated with a purpose to ensure optimal communication, collaboration and clear next steps.
Communicate clearly and often – It is important for both employees and employers to communicate expectations. Operating in a hybrid model may invite gray areas that can lead to confusion. Communicating clearly and often will remove assumptions about deliverables, deadlines, or expected work schedules.
Optimize technology – Many of us implemented new technology in a hurry back in March 2020. Now is the time to consider whether the new technology can be optimized for the future of a hybrid work environment.
Training – Train your team on any new technology you have implemented. Also consider training on approach, expectations and procedures to execute a comfortable working environment whether it is in the office or remotely.
Consider logistics – When considering a hybrid model and employee schedules, it is important to understand the impact this will have on your operation. Leaders should look at their business  and understand what is needed to ensure an optimal operation.
Document procedures – Consider documenting enterprise-wide expectations of employees within the hybrid environment that provide flexibility but also guard rails to assist with the effectiveness of your organization, such as minimum days a week in the office.
Team engagement – Work with your team to understand what they need. If we have learned anything in the remote environment, it's that we need to be flexible while still working towards a common goal of getting the job done.
Collaborate – As some employees return to the office and others continue to work remotely, it is important to continue to collaborate through weekly meetings or even a daily huddle. This will allow for a sense of community to remain, regardless of working environment.
The Future of Hybrid
It is clear that the way we work has been forever transformed. The way we operated in 2019 will not be the way we work going forward. While we don't have a crystal ball, we do think hybrid work models may be here to stay.