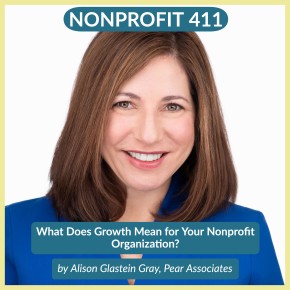 By Alison Glastein Gray, Founder and President, Pear Associates
In my role as a consultant, I work with many organizations as they consider growing…but growing can mean different things to different organizations.
Growth may mean serving new markets –geographies and populations — with the same program or service you currently offer. Growth may mean bringing a new program to your current client base or community. Or growth may mean increasing your market share by bringing your proven model to more people or more communities. And for some, growth may involve all of the above.
No matter how your organization may be thinking about growth, there are several factors to consider.
First, consider why growth is significant for your constituents and clients. Are there service gaps that you can fill for them? Could you serve more clients with more staff or additional locations?
Next, think about why growth is essential for your employees. Are you providing a workplace with new and exciting challenges? Is there a career path that will keep your employees engaged and retained?
Also, take into account why growth is vital for the communities and neighborhoods where you are based. Could you bring new resources into your communities with growth? Are there populations within your communities who could benefit from additional programs?
Finally, reflect on what you risk by not growing. Will your clients miss out or go elsewhere? Will you lose employees? Will you be left behind as your competition grows?
Once your organization has determined that growth is necessary, I recommend the following action steps:
Do your homework
You can learn more about your marketplace and competition by conducting an environmental scan of other nonprofit organizations in your area, and also by reviewing publicly available data to determine current needs and trends. You can also understand your constituency by conducting surveys or focus groups and by relying on anecdotal feedback to enhance any quantitative data you have obtained. Finally, consider the political and economic landscape that you are functioning in to determine how this may impact your growth.
Cultivate Partnerships
Partnerships can help your organization to expand your reach, leverage resources, and obtain new clients and constituents. Partners may be community-based organizations, academic institutions, government agencies, or schools. As a first step, you may want to establish an informal partnership through networking and sharing of information. Once trust is built and you determine areas of alignment, you can develop formal [partnerships through data-sharing agreements and memoranda of understanding.
Engaging in a Business Planning Process
You will want to create a roadmap as you embark on growth. Think about your short-term, action-focused goals. What will it cost to set up if a program? What will it cost to operate the program? What resources (staff, capital, knowledge) will you need to make this happen?
Develop a Marketing Strategy
Once you expand your current model, you will want to inform your audience. Think about your crucial organization and program-specific messages you wish to promote. Consider the channels you will use to promote your growth, such as social media, paid advertising, or leveraging your thought leadership. You may need to brand your new services or make sure they align with your current branding to ensure consistency.
No matter how you embark on growth, consider this exploration as an opportunity to be thoughtful and aspirational. You will be fruitful if you know WHY you are expanding and HOW you will expand.