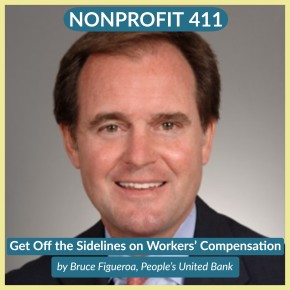 By Bruce Figueroa, SVP and Nonprofit Banking Lead, People's United Bank
Nonprofits cannot sit back and assume their workers' compensation policies will protect them from injury claims. To the contrary, active involvement and participation by senior executives in the workers' comp management process is essential to ensuring the health of the organization and the mission.
Workers' compensation coverage is one of the biggest expenses for nonprofits that deliver human services. In fact, for many of these organizations it ranks behind only physical infrastructure and salaries in terms of cost. Many organizations assume their sizable policy payments mean they have their exposure and risk under control. But when it comes to workplace injuries, there is much more to consider:
What are the best policies to prevent accidents and avoid claims?
Is there a plan in place to respond if-and-when someone gets injured on the job? Who is in charge?
Who is documenting the event and how? How will the organization investigate what happened?
What can an organization do for and about individuals who suffer multiple injuries or file multiple claims?
These questions are complicated by the fact that, given their limited resources, most small and mid-sized nonprofits do not have a dedicated risk manager on staff. Instead, the responsibility of risk management is usually taken on by a director or human resource manager who also wears many other operational hats.  Although these individuals might be highly committed and resourceful, they generally do not have extensive experience in managing crises or the ability to answer detailed questions in specialized areas like workers' compensation. For example, does your organization know if volunteers are covered under your policy? Likewise, nonprofits often are unaware of the many options available to them and to their employees in terms of modified responsibilities and other means of facilitating injured employees' return to work.
Because nonprofits without a dedicated risk manager often lack such a detailed level of knowledge, organizations could be vulnerable to claims, and less-than-fully prepared to manage crises when they do materialize.
There are standard workers' compensation procedures and provisions that can protect both employees and organizations. To be effective, however, these elements must be in place before an injury or claim occurs. For this reason, advanced planning around established workers' compensation "best practices" should be mandatory for all human service nonprofits. At a minimum, nonprofits should:
Develop full knowledge of relevant workers' compensation statutes, since workers' compensation is a statutory benefit and can differ significantly from state to state;
Understand legal defensibility, or how to use statutes to manage or defend a claim. In some cases, it might be best to deny a claim up front in order to engage a legal process;
Implement procedures for accident investigation and claims management. To make this process consistent and effective, the organization must fully engage both supervisor and employee;
Establish corrective action plans to prevent recurrence. In addition to making sure you don't make the same mistake twice, this is a critical way to lower the organization's experience modification rating (experience mod) and reduce loss costs;
Hold periodic meetings with safety committee, management and your insurance company/broker;
Create and implement a working strategy around the claims process. Review it periodically, and be willing to modify it when needed.
Given the scope of these requirements, it's clear that nonprofits cannot afford to leave workers' compensation claims up to human resources, the finance department or an insurance company. It's time for directors, human resource managers and other executives to get off the sidelines and take on the responsibility of protecting the organization, its employees and its mission.
Bruce Figueroa is the Head of Nonprofit banking at People's United Bank. The Nonprofit team meets the financial service needs of over 500 nonprofit institutions across the Northeast including credit commitments of over $1.3 Billion to support their missions. Contact Bruce at bruce.figueroa@peoples.com or visit our website at www.peoples.com/nonprofits.