Jay W Vogt and Judy A Ozbun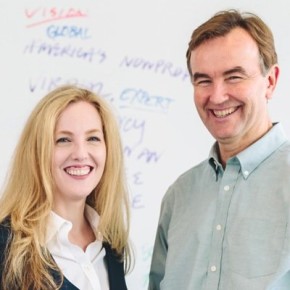 Founders of EssentialWorth
You're facing a tough decision, and you're stuck.  You'd love some perspective, but you don't know how to get it.  If only you could see your situation in a new way.
Here's how we often gain perspective on tough decisions.  First we take a step back, and try to see the big picture.  Often choices are hard because they bring together two competing and compelling interests, in a dynamic tension, pulling you in different directions.  Seeing this tension as creative helps us map the landscape of a challenge, and place our specific choice in its general context.  In seeing that context, we often experience insight, and then our decision is made.
Here's an example of how it works.  Let's say you have to make choices regarding which programs you keep, which you grow, which you add, and which you drop.  The competing and compelling interests are mission and revenues.  Some programs are closer to the mission core than others.  Some programs attract more revenues than others.   Thinking about your programs holistically – in this context – means seeing how your program and revenue strategy fit together as a whole, in a sustainable portfolio.  That perspective tells you whether the one you're considering is a fit, or a misfit.
If you are a visual learner, it helps to map out this tension graphically, as an x and y axis in creative tension.  Thus we would map the prior example in this way:
Low Mission

High Mission
High Revenues
low mission

high revenues

high mission

high revenues

Low Revenues
low mission

low revenues

high mission

low revenues
Seen this way, the insights are immediate.
| | | |
| --- | --- | --- |
| | Low Mission | High Mission |
| High Revenues | grow sparingly to subsidize | grow aggressively |
| Low Revenues | divest or joint venture | the heart and soul of the agency |
We love these two-by-two cell matrices.  They are simple yet powerful tools.  They help individuals make decisions.  And they help teams frame choices for discussion.  We love the insights they generate.  We introduce a series of graphic decision tools – in this format – online through short videos at our YouTube channel, EssentialWorth Moments.  They only take a moment; and they're essential!
We would love to hear from you:
What other decisions are you wrestling with at the moment?
What decision frameworks have you used recently to make an important decision?