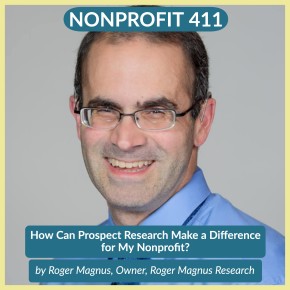 By Roger Magnus, Owner at Roger Magnus Research
OVERVIEW
Prospect or development research is useful for nonprofit philanthropic efforts but has its limitations. It involves conducting research and analysis to find out more about individual donors, foundations (private, community, and corporate), and government grants (not discussed here). Nonprofits vary greatly in their funding mix among these three major sources.
In particular, research may help to figure out more accurately how much money to ask for from donors or foundations. This is done by learning more about their potential philanthropic capacity based on estimated wealth /assets and giving history. Note that philanthropic capacity and how much to ask for are not the same thing as the latter is affected by other variables such as the relationship a donor has with your organization. A donor's estimated wealth range is usually gleaned from data about this person's real estate, charitable contributions, and current employment (if salary is known or can be estimated for groups such as public company and nonprofit top executives and directors, government employees, celebrities, and business owners). Some donors have additional wealth factors such as serving on a family foundation, owning a plane or yacht, or being an "insider" holding public company stock as an executive, director, or large shareholder. Research can also find business or volunteer relationships between a donor or foundation and your nonprofit's employees/board as well as a donor's biographical information, interests/hobbies, employment history, giving philosophy, and even potential conflicts of interest that may cause your nonprofit to stop requesting or accepting money from this donor. The findings will normally be analyzed and summarized in a donor or foundation profile which can vary in length, detail, and sequence.
Some variables that research CANNOT find include anonymous donors, a donor's bank account balance or credit history, many donors' exact salaries or stock holdings, and, if they own a Donor Advised Fund, its assets and donations.
RESOURCES
Finding this information may be aided by having access to subscription databases such as LexisNexis, DonorSearch, IWave, Foundation Directory Online, and many others.
Below are some additional FREE websites that may also be helpful: