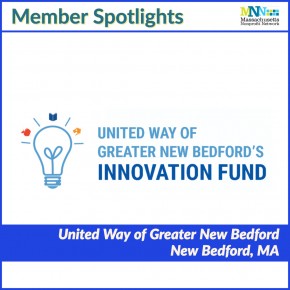 The nonprofit organizations that operate in the nine communities of the Greater New Bedford area play an important role in helping residents to overcome the challenges they face and helping to strengthen their communities. Through a new initiative, MNN nonprofit member United Way of Greater New Bedford is providing critical support to three nonprofits to pilot new and different projects so that they can deepen their impact.
Historically, the United Way of Greater New Bedford operated like a traditional United Way, where select "member" agencies were the recipients of funding every year.  After going through a strategic planning process in 2012, their model began to shift, and they created new funding opportunities to help nonprofits do their work with greater efficiency and impact.
In September 2017, the United Way of Greater New Bedford launched The Innovation Fund, a new program created for projects that experiment, target, or test new ideas and approaches that can lead to promising breakthroughs in the target areas of Health, Education, and Financial Stability.
The competitive application process for The Innovation Fund was unique for the area's nonprofit community. Nonprofits were previously unable to apply for funding for their innovative and untested ideas. The process represented a rare moment where busy nonprofit staff could take a step back from the demands of day-to-day operations to think through the specific supports they would need to design and implement a new and effective project.
The three nonprofit organizations that were awarded funding through The Innovation Fund are now piloting projects that serve their clients and communities in unique ways. The Greater New Bedford Youth Alliance is working a project that aims to connect youth service providers through a technology platform that enables them to track their participants and their community impact over time. The Greater New Bedford Community Health Center's project is transforming the delivery of opioid treatment services by integrating those services into primary care practice. Finally, an at-home security project from The Women's Center helps women who are victims of domestic violence stay in their homes and children in their schools. In addition to the financial support, these nonprofits are receiving additional technical assistance and support from the United Way of Greater New Bedford to translate their ideas into successful projects.
The projects supported by The Innovation Fund are now entering the second year of support. Staff overseeing the initiative have enjoyed watching them take shape.
"It's been exciting to see how the organizations' projects have been progressing over the past year," says Anne Nichelson, Vice President of Community Impact for the United Way of Greater New Bedford. "We've been learning over this past year, and looking forward to the next phase of The Innovation Fund."
Click the video below to learn more about The Innovation Fund.