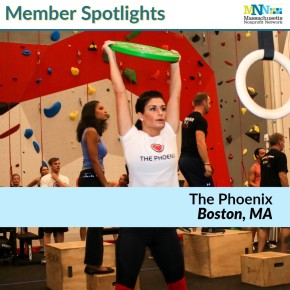 September was National Recovery Month and nonprofit organizations throughout the Commonwealth hosted events and worked to build awareness of available recovery resources. One organization, The Phoenix, used the month to bring a message of hope, to erase the stigma around addiction, and to help make Massachusetts known as one of the best places to be in recovery.
The Phoenix is a nonprofit organization that fosters a free sober active community for individuals recovering from a substance use disorder and those who choose to live sober. Since launching programs in Colorado in 2006, more than 32,000 people have walked through their doors nationally. By leveraging the intrinsic power of physical activity and social connection, participants build confidence and find the support they need to live fulfilling lives in recovery.
Phoenix programming is free to anyone with at minimum 48 hours of continuous sobriety and instructors are in recovery themselves. With this peer-to-peer model and a culture that is welcoming, safe and supportive, The Phoenix helps individuals rise from the ashes of addiction and pursue lives full of hope.
On Thursday, September 19, Massachusetts Governor Charlie Baker stopped by the Boston facility at 54 Newmarket Square to see the gym in action, meet program participants, and discuss mutual efforts to fight the ongoing opioid crisis and substance use disorder across the state.
A highlight of the visit was a moment when everyone yelled "Phoenix" loud and proud during a group photo. Governor Baker listened as a group of about 20 Team Members in recovery spoke about why they attend programming at The Phoenix.
"People come here for the classes and what they find is a new community and new friends. It's a powerful transformation when we believe in someone until they can believe in themselves," said Founder and Executive Director Scott Strode. "Governor Baker's visit further reduces the stigma around addiction, and we applaud him for being a leader in the state and across the nation surrounding the opioid epidemic. It was an honor to have him here to see our work in action and to talk about how we can work together in the future."
"Enjoyed the opportunity to visit The Phoenix, an active sober community focused on helping people through recovery with fitness and wellness programming," said Governor Baker on social media. "Thank you for the work you do and for being of part Massachusetts' recovery community."
The Phoenix currently has Massachusetts programming in Boston, Lowell and Bourne. For more information, including class schedules or how to donate, visit www.thephoenix.org.