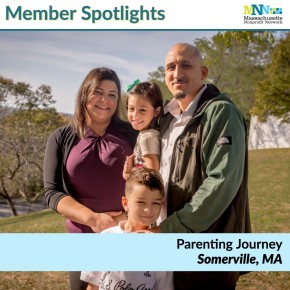 Collaboration between nonprofits can be a powerful force for change in a community, and can address needs that could not have been solved as effectively by any one organization.
MNN member Parenting Journey (PJ) uses collaboration in working towards the day when every family has what they need to thrive and succeed. Rooted in the belief that all parents know what is best for their children, PJ recognizes that some parents cannot reach their full potential because of systemic injustices that disproportionately impact communities of color, low-income families, and immigrants. In response to intergenerational trauma caused by racism and poverty, PJ uses an interdisciplinary approach to effect change in family systems, institutional systems, and governmental systems to uplift families.
PJ recognizes that collaboration and collective impact are essential to disrupting intergenerational poverty and trauma through a continuum of wrap-around services that meet the needs of individuals and families. PJ launched a two-generation service delivery model in partnership with nonprofits in the Greater Boston area who work with families at different life stages and in different capacities.
One of PJ's partnerships provides a glimpse into the power of nonprofit collaboration. PJ partners with the Epiphany School to provide its Parenting Journey I program to parents at the Epiphany School Early Learning Center (ELC) in Dorchester, MA. So far, a total of 28 young, low-income parents who have children enrolled at the Early Learning Center have participated in the 12-session curriculum. The weekly two-hour sessions are co-facilitated by Delores Reyes of Parenting Journey and Emily Bautista, the director of student support at Epiphany School.
During the sessions, parents explore their relationships with their own parents and past experiences that impact how they parent. The sessions provide parents with the opportunity for self-reflection and realization. Parents reported multiple positive changes as a result of their participation, including decreased stress and increased parenting strengths.
"Since Parenting Journey, I have a different perspective in life. I take time to listen to my children before making a decision," said a participant of Parenting Journey 1 at Epiphany. These types of changes have previously been shown to improve parent-child engagement and the ability of parents to buffer their children from stress, promoting optimal child social-emotional development.
In addition to providing the parent program, PJ trained 13 Epiphany staff in PJ Community. The 1.5-day training program brings staff together to develop strong working relationships, examine their work through a strengths-based lens, and improve engagement internally and within their community.
Epiphany offers many different types of support to children and families, including school, daycare, and home visits. Incorporating PJ into these wraparound services boosts the strengthening effects of those other supports, giving parents a dedicated space for building empathy and resilience.
Collaboration is powerful. By enhancing programs, practices, and policies across sectors, partnerships like the ones established by PJ and its nonprofit partners can address the complexity of families' lives and can create a collective environment that acknowledges parents' inherent strengths, power, and expertise.