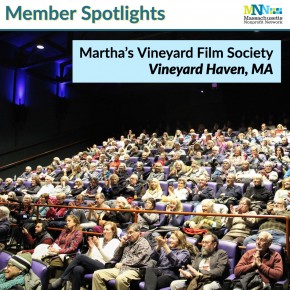 The Martha's Vineyard Film Society began in a way that many nonprofits do, as a dream of a dedicated group of volunteers to share their passion with the larger community. The group's dream was to bring enriching, culturally significant films to Martha's Vineyard.
The Film Society began with what Founder and Executive Director Richard Paradise calls "a nomadic existence." For twelve weeks in the summer, the Society would host nightly screenings of classic films on a 16mm projector at the Grange Hall in West Tisbury. Word spread about the Film Society, and it quickly built an enthusiastic following across the Island. It began hosting year-round screenings in cultural centers, including the Katharine Cornell Theatre, the historic Tabernacle, and Union Chapel.
However, the early successes of the Film Society exacerbated its two challenges: technical and artistic limitations imposed by the less-than-perfect screening venues, and the lack of a dedicated home in which they could offer film-goers a first-class experience and expand their programming.
The Film Society opened its permanent home, the Film Center, in September 2012. The Film Society now showcases 150 feature films and 1,200 live performances year-round to  more than 60,000 attendees. The Film Society also hosts The Martha's Vineyard International Film Festival, which recently completed its thirteenth year and drew over 2,700 attendees, the highest attendance in the Festival's history.
The Film Society is actively involved in the community through the revitalization and preservation of the Island's cultural and historic treasures. In 2015, the Martha's Vineyard Theater Foundation approached the Film Society with an opportunity to operate the Capawock Theatre in Vineyard Haven (opened in 1913) and the Strand Theater in Oak Bluffs (opened in 1915), both of which had fallen into disrepair and could only be used sparingly.
The Capawock re-opened on May 29, 2015, and The Strand Theater on June 20. Carly Simon and her family performed live music to a packed house at the Capawock Opening Ceremony, and a large crowd welcomed the Strand back to working order during a screening of JAWS!, the 1975 classic directed by Steven Spielberg that was filmed on the Vineyard.
In twenty years, the Martha's Vineyard Film Society has grown from a seasonal, volunteer-led organization into a vibrant, year-round cultural organization that has become an Island institution. The Society looks back fondly on its foundational "nomadic" years and is excited by the prospects of the next twenty.