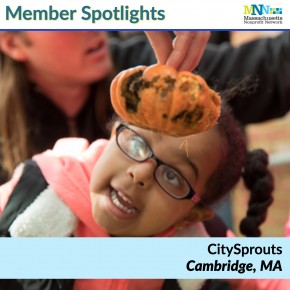 Nonprofits in the youth and education sub-sector provide critical services and programming to kids across the state. In addition to student-centered programming, another important dimension to the work of nonprofits like Cambridge-based CitySprouts is the support they provide to teachers.
The CitySprouts mission is to cultivate wonder for all children with hands-on learning through urban gardening. CitySprouts partners with 21 elementary and middle schools in Cambridge and Boston and makes hands-on, minds-on learning in the school garden accessible to children of all backgrounds and homes.
This fall, early grade teachers at the Henderson Inclusion School and Winthrop Elementary School are participating in CitySprouts' year-long series of site-based professional development workshops. CitySprouts' professional development workshops give teachers time to reflect on the science standards and practices, and then explore the school gardens to find evidence of these concepts.
Teachers are encouraged to approach the school garden as if they themselves were kindergartners. They explore milkweed plants, roots and all, discovering the milky sap that oozes out of the plants' stems, and the fluffy seeds that poured out of pods when cracked open.
CitySprouts professional development workshops instil confidence and content knowledge in the teachers. "I feel that the CitySprouts workshop series made me, someone who doesn't feel quite competent in science, very comfortable with teaching science," said one teacher who is participating in the workshops.
Whether in the classroom or in the garden, CitySprouts shows that exploring living things is a perfect opportunity for students—and their teachers—to practice the scientific method and to build a relationship to the natural world.
CitySprouts is one example of a nonprofit that addresses their mission area holistically, putting into practice solutions that will have the deepest impact on the future of our Commonwealth.