by Connor Dale, MNN Intern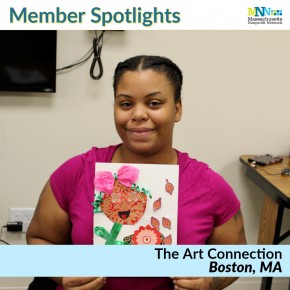 Our nonprofit members pioneer innovative programs and services, including those that use art to empower communities across Massachusetts.
The Art Connection is a nonprofit member in the Boston metro area that enriches and empowers underserved communities by providing them access to original works of visual art. Its latest program, Artful Seeds, is a collaborative partnership between community-serving agencies that engages clients with creativity and reflection through customized and immersive art-making workshops. The Art Connection staff design and lead customized art-making experiences that support clients as they navigate their way to new horizons—from homelessness to housed, from substance misuse to recovery, or from trauma to healing.
In a recent installment of Artful Seeds, The Art Connection staff hosted a "Purposeful Patterns" workshop for the women at Project Hope in Roxbury. Project Hope provides low-income women with children access to education, jobs, housing, and emergency services while working for broader systems change. Participants incorporated patterns of West African Adinkra symbols and collages into visual representations of their best selves. The initiative culminated in a community curation process where Project Hope staff and clients selected 26 original artworks for permanent onsite exhibition.
Donna Henderson, Director of Adult Educational Services at Project Hope, praised the Artful Seeds initiative for providing moments of reflection and release through art-making for the women served at Project Hope.
"Some of these women have experienced many struggles and traumatic things, so to have an opportunity to do something like this is just really wonderful. It's a break from their everyday and gives them an outlet for things that can be difficult to talk about," she said. "There were so many who not only tried new things, but also smiled for the first time in a while."