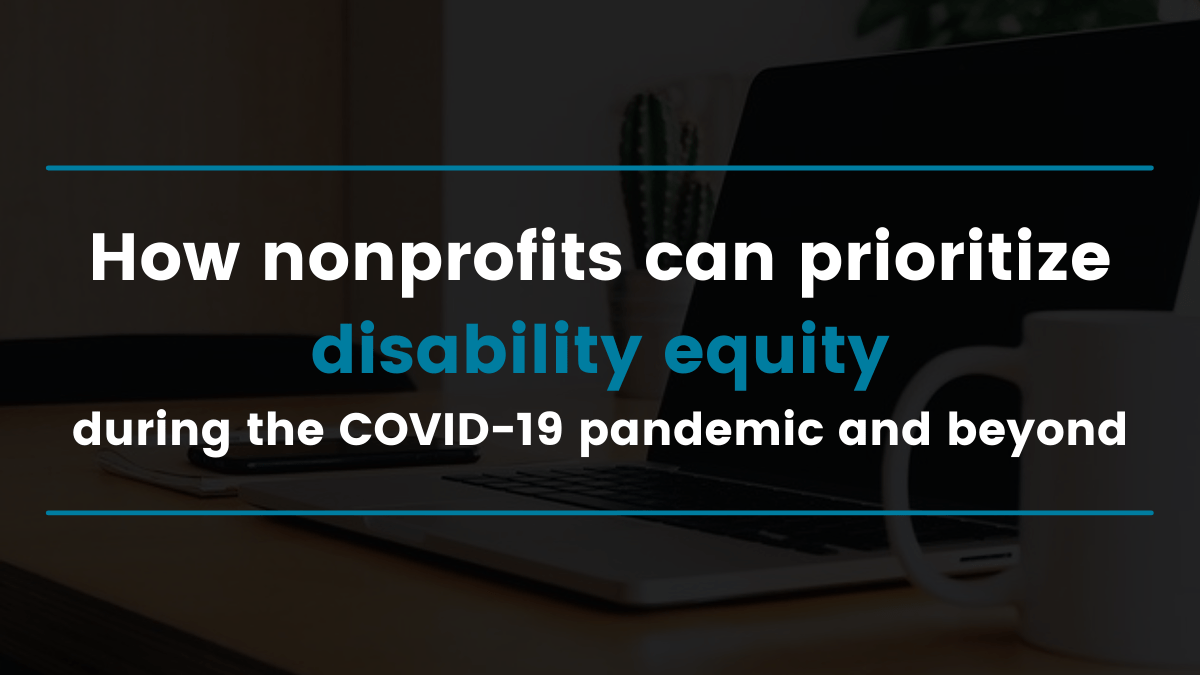 By YW Boston
Whether we show up to work in-person or virtually, nonprofit staff do not just bring their professional identities to work, but so much more.  At YW Boston, we consider the "Big 8" social identities: various aspects of ourselves that affect "how people and systems treat us and the opportunities that are available to us." One of these social identities is ability. 
Throughout the ongoing COVID-19 pandemic, disability advocates have noted that many organizations adopted workplace accessibility policies and practices that the community has been proposing for years. It's essential we understand disability equity and its importance to diversity, equity, and inclusion (DEI) in the workplace.
An introduction to disability equity
YW Boston recently completed a series of workshops with Partners for Youth with Disabilities, an organization that was integral in informing our understanding of disability. 
First off, we encourage all to get comfortable with the word disability. Many people with disabilities identify as disabled and are proud to be a part of the disability community. As a good rule of thumb, notice how people self-identify and follow their lead.
A key framework for understanding disability equity is the Social Model of Disability. With the Social Model of Disability, disability is not a diagnosis, but a product of one's social and physical environment.
The Social Model of Disability holds accountable those in charge of our physical and social environments to make necessary, accessible changes. This model is important when thinking about disability equity, which helps proactively accommodate the needs of people with disabilities.
Intersectionality is key
When thinking about disability equity it's also important to think about how the social identity of disability can intersect with other forms of identity, such as race and gender. 
Not only may a person experience discrimination for their race, their gender, and their disability, but those experiences are interwoven. Assumptions made about one of their identities will also impact how they are treated regarding their other identities. 
Use the Pandemic to Better Understand Disability Accessibility
Here at YW Boston, we have become increasingly aware throughout the COVID-19 pandemic that we have work to do around accessibility. Some of our strategies to increase accessibility include utilizing online transcriptions, accommodating different learning styles during our programs, and expanding remote participation options. We also now utilize adaptable furniture and have designated quiet areas in our office.
Taking the time to think through disability inclusion in the office is an important part of DEI work and something that should be revisited frequently to be sustained.
How do you begin to implement disability inclusion in your workplace? 
One way to start implementing disability inclusion in your workspace is through required disability awareness training for all employees, including those with disabilities and those without. This keeps everyone on the same page as far as disability language and resources. 
Another way to start implementing disability inclusion is by providing accommodations for your employees with disabilities. As shown by the Job Accommodation Network (JAN), accommodations help employees feel more secure in their individual roles and in working with their teammates.
If your organization needs additional support, reach out to those who offer organizational assessments, DEI services, and who specialize in disability equity.
____
About YW Boston
As the first YWCA in the nation, YW Boston has been at the forefront of advancing equity for over 150 years. Through our DE&I Services—such as InclusionBoston and LeadBoston—as well as our advocacy work and youth programming, we help individuals and organizations change policies, practices, attitudes, and behaviors with a goal of creating more inclusive environments where women, people of color, and especially women of color can succeed.

As part of that work, we are helping organizations prioritize Diversity, Equity & Inclusion and become socially connected while staying physically distant. During this time, YW Boston is providing organizations with digital workshops and resources to help them better understand the challenges faced by their employees. For more information, please contact Sheera Bornstein at sheera@ywboston.org.