When:
April 1, 2017 – May 1, 2017
all-day
2017-04-01T00:00:00-04:00
2017-05-02T00:00:00-04:00
Where:
United Way of Central Massachusetts
Central Massachusetts
Contact:
United Way of Central Massachusetts
5087575631 x275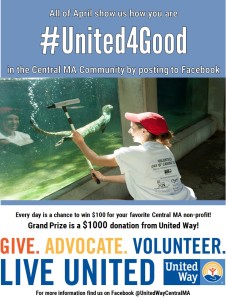 Between April 1st and May 1st, the United Way of Central Massachusetts wants to see how YOU are doing good in the local community. Post pictures to this event page of you or someone you know donating your time and efforts to improve Central Massachusetts. Every day, one picture will be chosen as a winner and the person who submitted the picture will be given the opportunity to donate $100 to the local non-profit of their choice. Winning pictures will be published in the Worcester Telegram & Gazette.
During the contest, two winning pictures will be selected each week and entered into a pool of eight finalists to win a grand prize donation of $1000 to be voted on at our Annual Celebration on May 3rd.