When:
October 20, 2020 @ 9:00 am – 10:00 am
2020-10-20T09:00:00-04:00
2020-10-20T10:00:00-04:00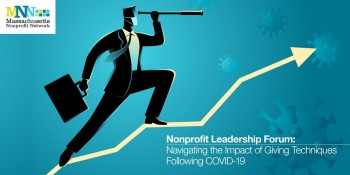 Navigating the Impact of Giving Techniques Following COVID-19
This educational webinar will offer valuable insight into tailored investment strategies for nonprofit entities, helping you to deliver best-in-class solutions to support your mission.
WHO SHOULD ATTEND:
Board members, Trustees, Directors, Finance Committee members, and key employees of nonprofits, foundations, charities, associations and trusts.
WHAT YOU WILL LEARN:
• How COVID-19 lead to a shift in giving that will reverberate for years to come
• What nonprofits can do to stay relevant during turbulent economic times
• Guidance on prudent investment & spending policy statements
• Investment due-diligence & monitoring techniques
• Contemporary asset allocation strategies
FEATURED SPEAKER:
Jim Klocke – CEO, Massachusetts Nonprofit Network
MNN is the voice of the nonprofit sector, focusing on public policy advocacy, programs and services to help nonprofits grow, and communications that increase public awareness of the great work done by nonprofits. MNN's 800+ members come from all regions of the Commonwealth and all sub-sectors of the nonprofit community.
HOSTED BY:
The Kelliher Corbett Group at Morgan Stanley
Stephen P. Kelliher
Managing Director, Senior Portfolio Management
Director, Corporate Client Group Director, Senior
Institutional Consultant, Financial Advisor
Jack Corbett CPM®
Senior Vice President, Portfolio Management
Director, Wealth Advisor