When:
October 29, 2020 @ 6:00 pm – 7:00 pm
2020-10-29T18:00:00-04:00
2020-10-29T19:00:00-04:00
Contact:
Eliott Rousseau
6178228349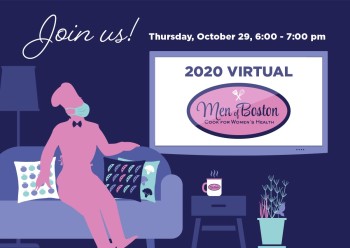 Men of Boston Cook for Women's Health, Codman Square Health Center's premier fundraising event, has been a staple in our Dorchester community and on the Boston restaurant scene for 22 years. COVID has challenged all of us, but we are proud to announce that we will virtually celebrate Codman Square Health Center's 23rd annual Men of Boston Cook for Women's Health – on Thursday, Oct. 29 at 6 pm. We'll be doing it 2020 style of course, but we'll be sure to do it with a lot of style!
The virtual event will feature:
– Messages from U.S. Senator Warren, Governor Baker, Mayor Walsh, and many more
– Musical performances
– Cooking and cocktail demonstrations
– Video visits from our Celebrity Chefs
– Photos of Codman's COVID Care in action
– Emceed by our long-time supporter, Channel 5 meteorologist Mike Wankum! WCVB is our media sponsor again!
We are very excited to enter the world of virtual events, and hope you are, too!
Our ticketing will be new this year, and we're offering three options.
General attendance ticket. Everyone is welcome to attend the virtual event free of charge.
Buy a Ticket / Get a Dinner. Because food is such a central feature of our event, attendees can purchase a dinner ticket and have a special event meal delivered! (Available to those living in the delivery area, see below)
Donation only ticket. If you'd simply like to make a donation to Codman Square Health Center.  All donations and proceeds from the event support women's health services at Codman Square Health Center in Dorchester.You'll also have the opportunity to order take-out from one of our loyal restaurant partners!
Follow this link to learn more:
https://www.codman.org/menofbostoncook/