When:
May 5, 2017 @ 9:00 am – 4:00 pm
2017-05-05T09:00:00-04:00
2017-05-05T16:00:00-04:00
Where:
501Partners
164 Canal Street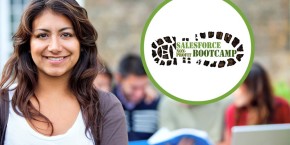 Are you a nonprofit that needs help understanding and implementing Salesforce, but lacks the skills and resources to take advantage of the platform's power?
If yes, we have a great event for you – our Salesforce Bootcamp 101 for Nonprofits!
At 501Partners, we're experts at Salesforce and want to share our knowledge with nonprofits that are looking to use this powerful platform to improve operations.
By the end of the bootcamp you will know how to:
Process Contacts
Record Donations
Manage Tasks
Customize records
Import Data
Launch campaigns
Generate reports
Create Dashboards
Who Should Attend: Executive Directors, Development Staff, Admin Staff, Volunteer Coordinators, Program Directors
-x-x-x-x-
What attendees have said about Bootcamp:
"Overall, great job! Working while learning was extremely helpful. I was able to learn a lot that will make me stronger and more effective while using Salesforce."
"I wish I had taken this class 1.5 years ago, it would have made my job a lot easier!"
"Thank you so much for a great workshop! I definitely learned a lot, and I look forward to diving into Salesforce and seeing what it can do for our organization."
"Paul, the presenter was awesome! The best part was that he was able to pause and answer questions, and then continue with his train of thought. He's very easy to understand, and able to demonstrate on the screen how to actually do things, including when answering random questions."
"Watching an experienced user use Salesforce really teaches you a lot more than just trying to read manuals or help pages on your own. It was also useful to hear how the other attendees use salesforce at their companies."