When:
March 5, 2021 @ 9:00 am – 11:30 am
2021-03-05T09:00:00-05:00
2021-03-05T11:30:00-05:00
Cost:
$150 Regular, $100 MACDC Member, $50 Student/Americorps/Intern
Contact:
Lia Downing
(617) 379-5933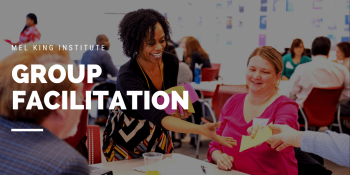 Ever feel like you're participating in one very long meeting lately? Do you attend or lead meetings that fail to achieve meeting or project goals? Effective meetings build connections, generate ideas, share knowledge, and can even create pathways to leadership. This two- and one-half hour workshop will introduce participants to techniques in meeting preparation, managing interpersonal and group dynamics, and following-up for success.
This workshop is designed to help you explore and improve your capacity to manage meetings and to connect with other individuals planning meetings through a combination of active-learning, small groups, and presentations. Apply the knowledge gained from this workshop to any meeting, small, committee meetings to larger public forums.