When:
December 14, 2016 @ 12:00 pm – 1:00 pm
2016-12-14T12:00:00-05:00
2016-12-14T13:00:00-05:00
Where:
ONLINE at Bay Path University

Contact:
Stephanie Bradshaw
4135656817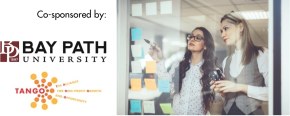 Women who think like entrepreneurs will be more successful in leading tomorrow's non-profits. Many non-profits are launching entrepreneurial ventures in order to increase earned revenue, rather than relying only on philanthropic gifts. These leaders find ways to look and act like a for-profit entity, by using entrepreneurial techniques to generate mission-driven revenue that inspires community and individual action, engagement and financial support.
This webinar will bring together innovative women who understand how non-profit leaders need to think and act differently. They will share what works and what is not a fit for non-profits to explore.
Co-sponsored by Bay Path University and The Alliance for Nonprofit Growth and Opportunity.