When:
May 9, 2017 @ 12:00 pm – 1:00 pm
2017-05-09T12:00:00-04:00
2017-05-09T13:00:00-04:00
Contact:
Krokidas & Bluestein
6174827211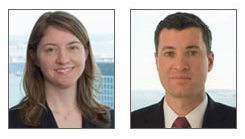 Krokidas & Bluestein is pleased to offer this free webinar in order to provide important information to our clients and friends.
Communicating electronically has become standard operating procedure in business transactions. Employees and agents routinely use email and text messages in conducting business, and Massachusetts law has increasingly recognized electronic signatures and records as enforceable. While the use of these technologies is often convenient and cost effective, there is a substantial risk that informal communications can be legally binding.
During this short webinar, attorneys Sheryl Howard and Jason Curtin of Krokidas & Bluestein will provide:
An overview of Massachusetts law on electronic signatures;
Tips and strategies to ensure that you are not unintentionally bound to a contract.
An open Q&A period will also allow Sheryl and Jason to respond to your questions in real-time.