When:
December 4, 2020 @ 1:00 pm – 2:00 pm
2020-12-04T13:00:00-05:00
2020-12-04T14:00:00-05:00
Contact:
Andi Fanelli McGunnigle
617-849-8003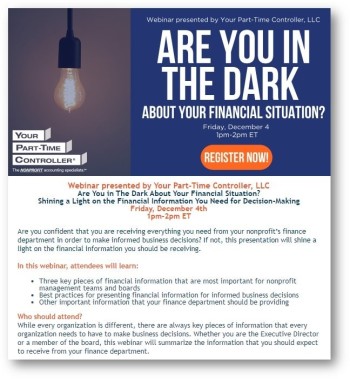 Are you confident that you are receiving everything you need from your nonprofit's finance department in order to make informed business decisions? If not, this presentation will shine a light on the financial information you should be receiving.
In this webinar, attendees will learn:
•       Three key pieces of financial information that are most important for nonprofit management teams and boards
•       Best practices for presenting financial information for informed business decisions
•       Other important information that your finance department should be providing
Who should attend?
While every organization is different, there are always key pieces of information that every organization needs to have to make business decisions. Whether you are the Executive Director or a member of the board, this webinar will summarize the information that you should expect to receive from your finance department.