When:
February 18, 2020 @ 3:00 pm – 5:30 pm
2020-02-18T15:00:00-05:00
2020-02-18T17:30:00-05:00
Where:
Women's Fund of Western MA, Third Floor Community Room
1350 Main Street
Springfield
MA 01103

Contact:
Kelley Bryant
413-529-0087 x113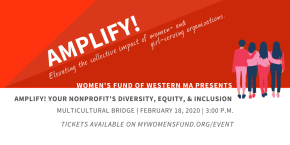 As part of our mission to give women, girls, and the organizations that serve them the tools they need to create change in our community, the Women's Fund is excited to launch our new Amplify! workshop series.
Last year we surveyed the staff of women and girl-serving organizations across the four counties of Western Massachusetts to identify their capacity-building needs. Based on the results of that survey, the Women's Fund is collaborating with expert trainers and coaches to offer capacity-building workshops focused on the needs of organizations serving women and girls.
With support from the Beveridge Family Foundation, the Women's Fund is able to invest in the staff of local nonprofits by offering these high-quality trainings at a substantially reduced cost to participants.
Diversity, Equity, and Inclusion Workshop
Gwendolyn VanSant will join us to offer an interactive workshop working through a cultural humility framework to identify the impact of personal and organizational identities on programs and individuals. We will explore facets of cultural awareness working towards competency and proficiency in navigating personal and systemic bias. VanSant will provide samples of strategic approaches for integrating a gender, poverty and race analysis in your diversity, equity and inclusion work. As we collectively work towards building a sense of belonging and safety in our workplaces and communities, our final discussion will look towards how we can leverage our resources and access towards positive social impact for all.
Instructor Bio: Gwendolyn VanSant
Gwendolyn VanSant is an experienced organizational change consultant and coach who works at the intersection of diversity leadership, equity and inclusion, and strategic planning. She is the CEO and Founding Director of BRIDGE and the Equity and Inclusion Team Lead at Changemaker Strategies. A skilled community organizer, Gwendolyn is also a well-recognized thought leader on racial justice and reparations.
Gwendolyn currently serves as the Vice Chair of the Town of Great Barrington W. E. B. Du Bois Legacy Committee. She is on the Advisory Board of Greylock Federal Credit Union's Community Development Financial Institution (CDFI) program, and she is a board member of the UU Mass Action Network, Shakespeare & Company, and Women's Fund Of Western Massachusetts. A longtime activist, Gwendolyn has founded several initiatives based on the principles of equity and justice, the inherent dignity and worth of individuals, and our interconnected web of humanity.
About Multicultural BRIDGE
Multicultural BRIDGE is a grassroots organization dedicated to advancing equity and justice by promoting cultural competence, positive psychology, and mutual understanding and acceptance. The organization acts as a catalyst for change through collaboration, education, training, dialogue, fellowship and advocacy. BRIDGE connects vulnerable community members with key resources and networks, while also providing education to both local institutions and the community at large. They are a minority and women run non-profit certified by the Office of Supplier Diversity of the Commonwealth of Massachusetts and their certified competencies are training, education, language access, and multicultural awareness.