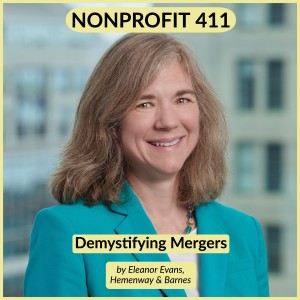 By Eleanor Evans, Counsel at Hemenway & Barnes
In these uncertain times, many nonprofits are exploring mergers as a possible sustainability strategy.
What's a "merger"? Generally speaking, a merger is the combination of one nonprofit's programs, assets or entire organization with another's by one of various methods, such as a formal merger, a parent-subsidiary relationship or a program transfer.
What can we achieve by merging? The ultimate goal should be to further your organization's mission. This could mean expanding the number of people it serves, delivering new types of services or serving existing constituents more effectively and efficiently.
When should we begin thinking about a merger? Now, when your organization has strengths it can bring to the table – and before it finds itself in crisis. A particularly good time to initiate merger conversations is when the executive director is planning to depart or has just left.
What should we look for in a merger partner? An organization with a similar mission, compatible culture, contiguous service area or a menu of services or client base that complements your nonprofit's will often make an attractive partner. Each partner should bring assets – resources, relationships, experience or skills – to the merger.
How do we find a merger partner? Start by reaching out to organizations with which your nonprofit, its executive director or board members have existing relationships. In some cases, it may be helpful to hire a consultant to help identify potential partners and facilitate conversations with them.
What lessons have other nonprofits learned from their experience with mergers?
Ensure that the merger furthers each partner's mission. It's important for each partner to identify how the merger will help it reach its strategic, mission-related goals. Each partner should initially assess its strengths and weaknesses, clarify what it hopes to achieve by merging and determine whether merging makes more sense than other alternatives. Both partners should examine the decision to merge from the perspective of those they currently serve and hope to serve in the future.
Articulate a shared vision. The partners should identify and agree on the results they hope to achieve and the impact merging will have on those they serve. This vision can be employed to get buy-in from stakeholders, rally board and staff members when obstacles arise, communicate with the public about the merger, and measure the merger's success.
Identify merger champions who are passionate about and can help convince others of the benefits of merging and who will see the merger through to completion. Lining up advocates from each organization's board early on is key to getting the boards to buy in and to fulfill their oversight role.
Conduct thorough due diligence. Each partner should conduct a thorough investigation of the other's operations, assets and liabilities to identify issues that could affect how the merger is structured, require negotiation or derail the merger altogether. Experienced legal and financial professionals can be invaluable in this process.
Communicate with funders to ensure continued post-merger support.
Prioritize organizational culture. Assess each organization's culture and identify and address areas where culture conflicts could impede effective integration. Take proactive steps to build a new organizational culture within the merged entity.
A merger is a fundamental organizational change that should not be undertaken lightly. Ultimately, its success will depend on the time and effort invested to identify and build trust with a compatible partner.