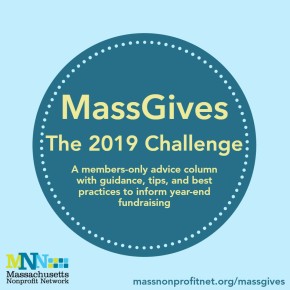 by Stacy Dell'Orfano, Director of Development, Friends of the Children-Boston
When nonprofit professionals think about development, they typically think about how development professionals get people and institutions to give to nonprofits. But what we need to start thinking about is how to educate and involve the coworkers and colleagues that don't have "development" in their job titles with the donor cultivation and stewardship process. With this in mind, development is more than just soliciting funds: it is also about creating a culture of philanthropy that is embedded within all aspects of an organization, and where all staff and board play an integral role in building sustainability. The results of culture steeped in philanthropy are accountability for all, shared responsibility, and a lasting impact on sustaining your mission.
Here are 4 steps you can take to build a culture of philanthropy at your organization:
Educate yourself on relevant statistics and trends on giving and donor retention. Bloomerang, a company providing widely-used donor management database tools, found that for every 100 donors gained by nonprofits in 2016, 99 were lost due to attrition. Compounding the difficulty in retaining donors were the changes from 2017 federal tax reform law, which likely were a driving force behind the $3.21 billion drop in individual giving in 2018. These challenges are particularly difficult if you are still looking at donor relationships as a transactional–not a transformational–part of the everyday work at your organization.
Get buy-in from your leadership. Building culture at any organization begins with buy-in from leadership. Share the stats mentioned above, as well as your organization's data on its donors and attrition rates. Educating those you work for and making them part of the donor stewardship process is essential.
Educate staff on the basics of fundraising and involve them in fundraising campaigns. At Friends of the Children-Boston, we begin this process by hosting a workshop for all staff on Donor Appreciation and Stewardship. We know the workshop is successful if staff leave the session with a better understanding of the "what" and "way" surrounding donor appreciation and stewardship, the donor stewardship cycle, and why it is essential to engage staff and beneficiaries in the donor appreciation and stewardship process. In addition to the professional development this offers staff, the organization itself benefits: at Friends-Boston workshops, we create tangible takeaways for our donors, including template materials for thank-you notes, letters, and cards that are ready for customization. Youth in our programs use these templates to write personalized notes to donors with staff trained to help them. These personalized cards are used for new donor welcome packages and as supplemental thank-yous for key returning donors. We have seen the number of returning donors and multi-year donors increase after implementing these personalized cards. We have even had donors send unsolicited donations after receiving them!
Listen to donors and look for opportunities to engage more deeply.  Reach out to your donors and learn how they want to interact with your mission: do they want to be taken on a site visit, volunteer with your organization, or are they content with personalized thank-yous and updates? Don't just reach out to individual donors in this process. Include corporate and philanthropic supporters as well.
The deeper you engage with your donors, the more you will make them feel connected to the mission and increase their loyalty to the organization. And because you included staff in the process, they will see and understand that they are an essential part of the process.