By Jessica Sullivan, Insource Services, Inc.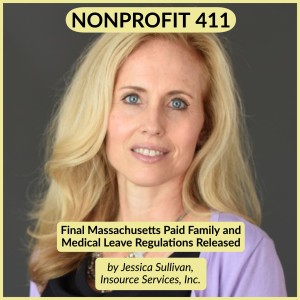 Several months ago, most employers began preparing for Massachusetts quickly approaching Paid Family and Medical Leave (PFML). Recently, the DFML released the final regulations. The changes were not substantive but provided clarification, as listed below. Click here for the full redline version of the regulations.
A refresher: PFML, a state-offered benefit for qualified MA employees, provides up to 26 weeks of job-protected, paid leave for medical and/or family reasons. The cost is shared between the employer and employee or employers may opt to cover the entire cost. A quick summary of the provisions is included below. Note that many of these were modified in the recently released final regulations.
Job protection extends to employees who choose to use a richer employer sponsored paid leave policy (sick bank, temporary disability, company leave policy) rather than filing for benefits under PFML. The employer is responsible for notifying the state/private plan and the employee also receives PFML job protection. Employers paying the PFML state tax are also eligible for reimbursement in the amount equal to what the state would pay for the same leave.
Treatment can include telehealth visits with a health care professional.
Leave can be taken in increments of 15 minutes but will not be payable until either 8 hours has accumulated or 30 days have passed from date of first use.
Employers with a private plan can require proof of wages from a newly hired employee (or current employee who has not worked the requisite quarters) to determine eligibility.
When employers transfer to or from the state tax to a private plan or between private plans, claims in process will remain with the plan through which the claim was originally approved.
Employees eligible for coverage while employed should apply for benefits with the former employer if covered under a private plan and if not more than 26 weeks has passed since employment ended.
Leave for substance abuse applies only to treatment through a licensed program. A family member of an individual in treatment may also be eligible for PFML leave.

If employers with an established policy regarding substance abuse in the workplace that is communicated to all employees and have proof of a violation of this policy, the employer can terminate the employee while on leave or within the 6 months after returning.
An employer providing a company paid leave benefit for a reason that would otherwise qualify under PFML is eligible to be reimbursed for the amount the state would have paid the employee for the same leave. This is applicable to employers who pay the PFML tax. What should you be doing now?
At this time, most employers are considering the practical application of PFML: how existing leave policies will intersect with PFML and what changes, if any, should be made to unify benefits and leaves. And, we are all waiting for the DFML to release their protocols for applying, turn around time for payment and the process they will use to work with employers. For now, here are a few reminders:
Display the poster: PFML Mandatory Workplace Poster and add Mandatory Employee Written Notices to new hire information (they must be shared within 30 days of hire).
Review or consider instituting a workplace substance abuse policy.
If you plan to require a fitness for duty from employees returning from leave, it's a good time to start reviewing and updating your job descriptions. Employers need to provide a list of essential functions within 10 days of an approved leave to qualify the employer to ask for a fitness for duty at the end of a leave.
Review and begin to update employee handbooks to coordinate the benefits and requirements across your leave policies.
If you would like to review your leave policies with us or need further assistance, we would be happy to help at Insource Services.