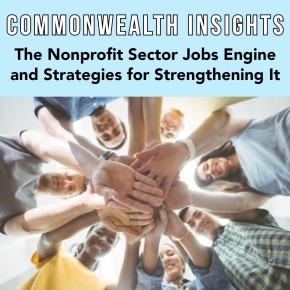 Today MNN released the latest edition of Commonwealth Insights, "The Nonprofit Sector Jobs Engine And Strategies for Strengthening It."
The new report draws on recently-released data from the U.S. Bureau of Labor Statistics to paint the most up-to-date picture of the nonprofit sector's economic impact in Massachusetts. The data shows that in 2017, Massachusetts nonprofits generated 551,117 jobs and $36.1 billion in wages. Nonprofits comprised almost 18% of the total workforce, the fifth highest percentage in the country.
The data also shows that from 2013 to 2017, nonprofit employment in Massachusetts grew by 41,763 jobs, an increase of 8.2%, and annual nonprofit wages grew by $6 billion, an increase of 20%.
"The nonprofit sector's economic impact is not only large, it's growing at a rapid clip," said Jim Klocke, CEO of MNN. "The roles of nonprofits as economic engines and as service providers are both crucial to protect."
The report makes three policy recommendations in support of the Massachusetts nonprofit sector:
Preserve and grow charitable giving, including the creation of a federal universal tax deduction and the restoration of the Massachusetts state charitable tax deduction;
Streamline state-level reporting requirements to remove duplication and reduce costs associated with reporting;
Optimize employer policies so that they work for nonprofits as well as for-profits.
The most recent edition of Commonwealth Insights comes on the heels of a Giving USA Foundation report released in late June, which found that individual donations to American charities dropped by $3.2 billion nationwide in 2018 ($10.4 billion in inflation-adjusted dollars).
Previous editions of Commonwealth Insights have explored the potential impact of 2017's federal tax reform law on Massachusetts nonprofits.
"The nationwide drop in charitable giving resulting from the change in the federal tax code is a concerning trend. The recommendations outlined in this new report will preserve and strengthen the nonprofit sector's role as cornerstones of our communities," added Klocke.
Commonwealth Insights publications highlight policy, issues, and trends important to the nonprofit sector published by MNN. This is the second edition of Commonwealth Insights in 2019. Earlier editions focused on federal government shutdowns, year-end fundraising strategies, the 2020 Census, and the impacts of federal tax reform. Prior editions can be viewed at www.massnonprofitnet.org/CommonwealthInsights.