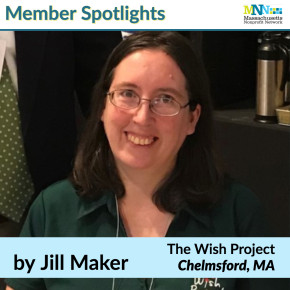 Sometimes the best way to describe the true impact of a nonprofit is through telling the stories of the people it serves. This is the case for Chelmsford-based nonprofit and MNN member The Wish Project.
The Wish Project's mission is to help families in need establish long-term residency by providing furniture, household goods, clothing, and shoes; to provide critical immediate assistance to homeless families and victims of fire or disaster; and to support the community.
Jill Maker, once a client of The Wish Project and now its Chief Operating Officer, shared her inspirational story with MNN:
"I first found out about The Wish Project in 2006 when I helped a friend pick up a couch she had received through the organization. I didn't know it then, but that meeting was truly a blessing: shortly after that visit, I would become a Wish Project client.
After the first meeting, my house was flooded and all my baby clothing and supplies were ruined. I was 7 months pregnant and had nothing for my new baby. I didn't know where to turn. Then, a good Samaritan brought me a bag of new items for my baby. That woman was Donna Hunnewell, the founder of The Wish Project. She helped me turn my whole world around. I was so touched I started to volunteer at The Wish Project.
I had medical complications with the baby and lost my job and ultimately my home because I was out of work for so long.  Jobless and now pregnant with my third child, I ended up in shelter housing. The caseworker that I had worked with at The Wish Project became my own caseworker and started getting items for my children from Wish.  
Even while looking for a new job, I still spent my spare time volunteering at Wish. I hoped that the volunteering on my resume would help me secure a new job. As it turns out, it did a lot more than that. Donna later hired me as the Project Manager for the Wish Project, then promoted me to Assistant Director. Now, 12 years later, I am its Chief Operating Officer.
I always say that one thing can happen in your life that can change it forever. Every person and story that I have heard at The Wish Project is different, but one thing is the same: when their lives change for the worse, they all need to see some light at the end of the tunnel.
I understand that because I've been there."
***
Nonprofit members can click here to submit a Member Spotlight and share a story that best illustrates the positive impact their organization has in their community.