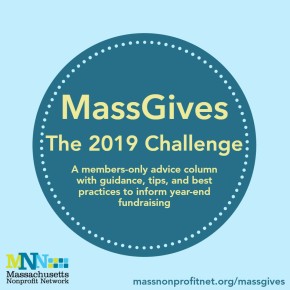 By Danielle Fleury, Director of Government Affairs
Engaging individuals as donors, volunteers, and general supporters has always been an important part of a nonprofit organization's overall development strategy. Donors are more likely to respond to messages or calls to action that speak directly to what drives their philanthropic behavior, and nonprofits have long segmented donor lists and tailored asks for support accordingly.
But in 2019, shifting landscapes in both technology and tax policy are impacting who gives, when, how much, and through what channel. In this climate – when more day-to-day activities take place online, and as the full impact of federal tax reform becomes more apparent – there are tangible approaches that can help nonprofits engage new and existing donors, from millennials to retirees. The 2019 year-end giving season is a great time for nonprofits to review segmented donor lists and refine their approaches with each group. For nonprofit development plans, this can mean not only maintaining overall individual giving goals, but shifting strategies to respond to an evolving fundraising climate.
Nonprofits should focus on growing their 'middle income' donors that are likely to be most affected by changes in federal tax reform.
Federal tax reform changed the way that individuals file their taxes, nearly doubling the standard deduction and capping the amount of state and local taxes (SALT) that can be deducted. The impact is likely that fewer middle income donors itemized their deductions when they filed in 2019, and have realized that they lost the federal tax benefit for their charitable contributions. In response, nonprofits can shore up their engagement strategies to encourage continued support from middle income donors with the following tactics:
Share stories of impact – Routinely sharing powerful stories of impact with this subset of donors can help tap into donors' altruistic motivations at a time when their tax-based incentives to give are changing.
Establish recurring donations – Standing up recurring donations with these donors can build a reliable stream of organizational support, and move the conversation away from lump sums of year-end giving that is no longer tied to tax incentives.
Nonprofits have a great opportunity to expand their donor base to younger donors through targeted solicitation of millennials.   
Millennial donors are both more likely to give and to volunteer than prior generations. Even though they are currently giving less in total dollar amounts than baby boomers or Gen Xers, the high levels of philanthropic activity early in their careers signify that millennials will likely give more as they earn more – an important factor to note as they will soon make up the majority of the workforce. With more daily activity happening online, nonprofits that focus on expanding their online presence and employing the use of technology-centered fundraising strategies are in a great place to expand their donor base to younger generations. Nonprofits can capture millennials' interest and attention at this critical time with the following strategies:
Strengthen mobile strategy – Millennials are likely to receive information about causes that interest them and take action to support those causes from their mobile devices. Nonprofits should maintain an active presence on social media and strategically optimize digital communications for mobile use in order to fully engage with millennials and subsequent Gen Z donors.
Build peer-to-peer and crowdfunding campaigns – Daily presence on social media means that millennials are instantly connected to their peers, aware of their causes and philanthropic activity and can easily promote their own giving habits to others. Nonprofits should consider whether peer-to-peer and crowdfunding campaigns is an appropriate complement to their individual giving programs.
Nonprofits can specific giving guidance to retiree donors, particularly those who might be impacted by federal tax reform.
Retirees continue to make up a core component of individual donors, and are also among the most likely groups to be impacted by federal tax reform. Luckily, there are a couple of ways that older donors can retain their tax benefit for charitable donations. Nonprofits can raise general awareness about the following strategies, and walk individual donors who may benefit through some basic steps:
Promote Qualified Charitable Distributions (QCDs) – People who hold Individual Retirement Accounts (IRAs) are required to take required minimum distributions (RMDs) each year beginning at age 70 ½, and donors can fulfill their RMD by a direct transfer of up to $100,000 to charity. Nonprofits with donors in this age bracket should promote QCDs as a way of retaining a tax benefit of charitable giving.
Encourage Donor Advised Funds (DAFs) – A donor-advised fund is a charitable giving vehicle administered on behalf of organizations, families, or individuals that allows donors to give, receive an immediate tax deduction, and recommend grants from the fund over time. Nonprofits should remind donors about this vehicle, particularly those expressing concern about federal tax reform.
The increased use of technology and shifting strategies in the wake of federal tax reform have illuminated specific strategies that nonprofits can use to understand and engage donors at different stages of their lives. Segmenting donor lists and employing differentiated solicitation strategies that make sense for distinct categories of donors in this age of evolving platforms and altered policy landscapes can make a significant difference in engaging new and recurring donors.